on Sat Jun 04, 2016 3:27 pm
Graphic type: Avatar
Size: 180 x 180
Text: Reaper
Preferred colors: Black/Blue
Images: Nothingpicky, just a Generic Grim Reaper
Extras: If it could be a Circle Avatar, that would be great. Thanks guys!
on Sat Jun 04, 2016 5:09 pm
hello my try
iam not quite sure what kind of image you prefer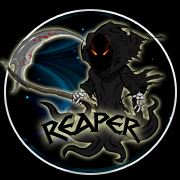 #skoulikiart
#graphicrequest
#freeraphics
#completedbyskouliki
#skoulikicollection
on Sat Jun 04, 2016 5:10 pm
Message reputation : 100% (1 vote)
That's awesome Skouliki! I knew I could count on you.
With that, this topic is now
Locked

Topic moved, as well!

on Thu Jun 16, 2016 1:13 pm
Permissions in this forum:
You
cannot
reply to topics in this forum