on Sat May 21, 2016 10:40 am
How fast can you type? 
http://10fastfingers.com/typing-test/english
I think I'd do better in my native language. :'D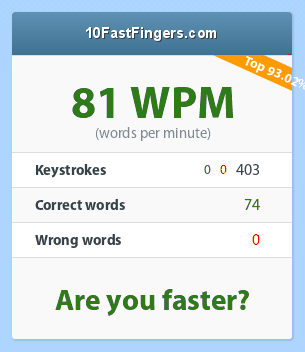 Banner =/= Logo  | Keep the aspect ratio!
Guest

Guest

on Sun May 22, 2016 6:58 am
Got 61 WPM
Who cares anyways, it's useless
lol
on Fri Aug 26, 2016 6:22 pm
Not saying that I am a fast typist or anything but...
on Mon Aug 29, 2016 5:29 am
Words per minute (WPM) 68
Keystrokes 397
(342 | 55)
Correct words 66
Wrong words 9
You are better than 84.83% of all users (position 14977 of 98759 - last 24 hours)

runawaytoday.COM
Permissions in this forum:
You
cannot
reply to topics in this forum