Heeeey, here's my try for the signature of the month. Sort of a little homage to Graphic Balloon -- it's the first thing that came to mind when I saw the theme was "hot air balloons."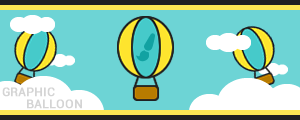 I mostly made everything by hand, EXCEPT for the brush and font. The font is Roboto and the Brush is FontAwesome.
Here's the PSD :
Code:

http://www.mediafire.com/download/anfhde9t12b864m/sotm_1.psd
It's been ages since I made a siggy, and I was never great at it to begin with, so
#criticspls
.

btw here's the balloon I made if anyone wants to use it.

#som
#signatureofthemonth
#signature
#AngeArt
#AngeCollection
#AngeGallery
#gb
#graphicballoon
#angetuteur
#flat